Khao Sok National Park lake kayaking itinerary for hiking, caving, and wildlife tour
Day 1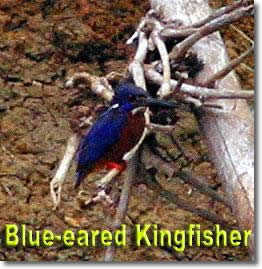 We pick our guests up from their hotel in Phuket or from the Phuket International Airport and transfer them to the dam at Khao Sok National Park reservoir. The drive from Phuket takes about two and a half hours.
Surat Thani transfers can be arranged, but are not included in the trip price. Khao Lak is NOT on the way to Khao Sok from Phuket. Khao Lak transfers are not included in the trip price.
Once at the dam, we'll board a long tail boat to transfer to the floating jungle bungalows. The boat ride takes about 45 minutes. The scenery along the way is very dramatic, with towering limestone karst cliffs and thick tropical jungle.
We'll go to the bungalows (owned by the National Park, not Paddle Asia) and check in. Other tour operators use these same bungalows and they can be rather noisy.
Next, we visit the viewpoint. This is a fairly easy hike, but you will be climbing up for about an hour.
Time-permitting, we'll either go for a leisurely afternoon paddle or you can swim and relax. We are always flexible with the schedule. If you choose to paddle, you will likely see some hornbills, gibbons, and monkeys.

Safety note: the buoyancy in the freshwater reservoir is not very good. You should wear a life jacket when you are swimming.
Day 2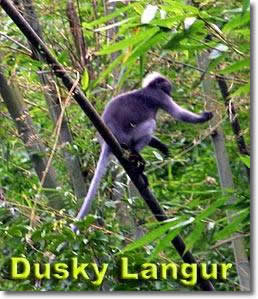 Early in the morning, we'll head out to do some wildlife spotting. Gibbons make their weird and wonderful calls early in the morning. It is nature's alarm clock.
After about a couple of hours on the water, we'll head back for breakfast and an optional nap.
An optional midday paddle is offered to guests. Even if it's a bit hot, many animals are still active. Dusky Langurs seem to be out all the time. Just being on the serene reservoir is reward enough. The sounds of the jungle will sooth your mind and warm your body.
In the afternoon, we'll head out for another wildlife viewing trip. Watching monkeys frolicking in the jungle canopy is entertaining to say the least. They often make fantastic leaps from tree to tree. Langurs are the most impressive at this. They appear to be fearless. They even make their unbelievable jumps when they have babies clinging to their bellies.
Did you know that baby Dusky Langurs are cinnamon colored while adults are black? It's quite a contrast.
Day 3
Again, we'll do an early morning birdwatching and wildlife sighting paddle.
After breakfast, we'll trek to a remote part of the national park. The trails meander through thick old-growth jungle. On either side, massive limestone cliffs cradle the valley.
It's safe and easy. It's also something you'll remember for a long time.
The hiking is easy and designed for the moderately fit adventurer.
In the afternoon, we'll do another paddle or go hiking along one of the three rivers flowing into the area. Creeks are a superb way to travel deep into the jungle.
Alternatively, if you are doing a 4 day trip and if it is the dry season we visit the Nam Talu Cave. This cave hike is a three-hour loop. Don't forget to bring a flashlight for the cave.
You will spend about an hour inside the cave. We won't go in if it's raining outside, but during most of the year it's a safe place to visit.
Day 4
Normally, we sleep in a bit, then have breakfast. After breakfast, we'll go for a nice long paddle to a different part of the park.
The nice thing about paddling from the bungalows is that each direction tends to offer different wildlife opportunities. Certain animals tend to be in certain areas.
The long tail boat will leave the bungalows at approximately 1:00 - 2:00 PM. This puts you back in Phuket around sunset.
Day 5
For longer trips, we have alternate paddling routes. You can travel to a more remote part of the reservoir called Klong Yee Wildlife Sanctuary. This area tends to have more big mammals. There are also some very nice creeks to explore. You get the feeling of being truly remote in this wonderful area.
Note: This is merely a sample itinerary. More trekking/hiking can be added if that interests you. You can also customize your adventure by adding jungle survival skills training or a bushcraft skills training course.
There is a lot of flexibility in this trip. Time of year, where wildlife has been seen most recently and other factors influence the day to day planning.
Check out our Khao Sok photo galleries.
Note: Three-day packages do not usually include the cave hike. However, as our goal is to give every trip participant exactly what they want, we can add this for an additional fee. Flexibility is one of our many strong points.
We also offer longer Khao Sok tours on request. If you're ready for something really special, you can experience Tropical Mountaineering in Khao Sok.
Khao Sok National Park is where we offer our jungle survival courses. In addition to learning valuable survival skills, there are a lot of tasty wild edible plants as well as wild fruit in Khao Sok. It's fun and interesting to try them.
This trip includes all transfers from and to anywhere in Phuket (airfare not included), all equipment, accommodations once on the trip, all meals, snacks, water, coffee, tea, and insurance. Alcohol, soft drinks, and fruit juices are not included.
Transfers from/to Surat Thani, Khao Lak or other areas are not included. Khao Lak is not on the way to Khao Sok from Phuket.
We don't own vans, we hire them on a trip-by-trip basis.
Kayaking in Khao Sok National Park is our easiest trip!

Go back to Khao Sok kayaking description page.