Khao Sok National Park self paddle Kayaking Tour - Kayaking to view Jungle & Wildlife
Level: very easy (our easiest trip)
Season: all year multi-day tours (no day trips)
Activities: kayaking, jungle trekking, caving, birdwatching, and swimming.



Pros: abundant wildlife, thick tropical jungle hiking, unique floating bungalows & stunning limestone karst formations. Small groups (2 - 8 guests) or private tours available.

Cons: noise from other tour companies at the floating bungalows and the travel time from Phuket (logistics). Khao Sok is all about wildlife and jungle trekking. If kayaking is your main interest, consider Phang Nga Bay.

Click here to see a Sample Itinerary
Check out our many wonderful Trip Advisor reviews.
Our Khao Sok National Park jungle kayaking tour is an easy jungle adventure. This small group or private wildlife eco tour is the perfect vacation in Thailand.
The pace is very slow and the main focus of this trip is spotting wildlife.
This is a self paddle kayaking trip.
The wildlife sightings and birding in Khao Sok is very good.
Monkeys, Elephants, Gibbons, and other Wildlife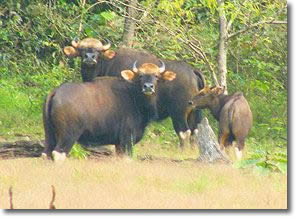 Long-tailed Macaques (monkeys), Pig-tail Macaques, Dusky Langurs (monkeys), and even White-handed Gibbons (apes) are seen on this kayaking tour. One thing is inevitable, you'll see and hear the monkeys of southern Thailand on your vacation! We've had numerous close-up wild pig sightings.
Elephants can still be found in the park. They are a fairly common element of this eco tour. Even if you don't see an elephant, it's common for us to encounter elephant tracks or hear elephants rustling beyond the underbrush.
Other animals that we've see a few times include the rare Serow (a type of endangered mountain goat), Malayan Sun Bears, Gaur, Tapir, Red Muntjac (deer), Yellow-throated Marten, Binturong, and a couple of species of otter and porcupines.

Click here to see some general wildlife & scenery photos. There are no tigers in Khao Sok National Park and haven't been there for decades. There are other cats, but they are extremely difficult to see.
Khao Sok Photo Galleries, all the animal photos were all taken on Paddle Asia trips by us or our guests. The gallery has general wildlife & scenery, birds, reptiles, and elephants. You can see butterfly photos here.
Bird watching in Khao Sok
Hornbills are actually common on this kayaking adventure tour. We frequently see several species and we have seen eight species so far. We see Great Hornbills, Bushy-crested Hornbills, Wreathed Hornbills, Oriental-pied Hornbills, Southern Pied and Helmeted Hornbills on almost every kayaking trip. The Plain-pouched and White-crowned Hornbills also reside in Khao Sok.

But hornbills aren't the only birds we see on this small group tour. Serious birders can easily add a plethora of tropical birds to their life lists after only a couple of days on their vacation. A large number of kingfishers also reside in the area, along with many other colorful resident birds of Thailand. You never know what you'll see when you paddle into a cove.
But, you don't have to be a seasoned birder to enjoy the pleasures of birding in this tropical wonderland. Dave is the only expert birder in Paddle Asia. Dave only goes on big group trips as Thai law dictates that all guides must be Thai. Our Thai guides are extremely good at spotting birds, but are not experts at the names.
Jungle Survival Course
Khao Sok is the ideal jungle survival course destination. The park offers rugged terrain and a very impressive amount of bio diversity. Khao Sok jungle survival courses can be customized, but normally include sunrise and sunset wildlife-spotting paddles as well as some of the regular treks we take on our standard Khao Sok tours.
To learn more about these courses, check out our jungle survival information and our bushcraft information page. There are a lot of tasty wild edible plants in Khao Sok. It's fun and interesting to try them.
Khao Sok Jungle Trekking
There are plenty of opportunities for you to go trekking in the jungle of Khao Sok National Park. There are only two main trails that most tourist visit: the viewpoint and the Nam Talu Cave. We also visit them. Don't forget to bring a flashlight for the cave.
We have dozens of trails that we've developed for you. Most hikes are in creeks as they are easy and beautiful.
The 'dry' hiking routes range in difficulty from flat and easy to rugged, strenuous and a bit tricky.
If you have the time and like hiking, you can sign up for the Phang Nga Province add-on. This is on the way back from Khao Sok to Phuket. The jungle here is very impressive and it will give you a nice taste of the difference between the two destinations. It can be added as a hike or as a jungle survival add-on.
The limestone karst topography in Khao Sok National Park is some of the highest in the world. The tallest is 960 meters high! This dwarfs anything in famous Phang Nga Bay. Read more about the karst topography of Khao Sok.
Click here to see a map of Cheow Lan Lake in Khao Sok.
Guest's comments: Mark Strickland (American)
"I can't say enough about our fantastic trip to Thailand's Khao Sok National Park with Paddle Asia. It was a great experience from start to finish - well organized but flexible itinerary, with just the right combination of paddling adventures and relaxation. The scenery is absolutely spectacular - we explored miles of pristine shoreline, bordered by towering, limestone mountains and verdant tropical jungle. Thanks to Dave's expertise, we paddled to just the right places to see a wide range of creatures - primates like dusky langurs, pig-tailed macaques and white-handed gibbons, and lots of bird life, including several types of eagles, hawks, and 3 different species of hornbills. We even saw wild pigs feeding at water's edge."
Floating Bungalows

Your vacation headquarters are unique floating bungalows located in the massive 165 square kilometer Khao Sok National Park lake.
There is electricity in the floating bungalows from near sunset until dawn. Therefore you can leave the fan on all night.
The shared toilets are clean and the walkway to them is lit at night.
Amazingly, mosquitoes are rare in the area.
Click here to read more information on the floating bungalows of Khao Sok National Park.

The bungalows do not belong to Paddle Asia. They are national park bungalows and other tour operators use them too.
Safety note: the buoyancy in the freshwater reservoir is not very good. You should wear a life jacket when you are swimming.
Our tours are all-inclusive
Tour prices includes(airfare not included), all equipment, accommodations once on the trip, all meals (breakfast not included on the first day), some snacks, water, coffee, tea, and insurance.
Alcohol, soft drinks, and fruit juices are not included.
Certification in Paddlesports and First Aid
Dave is a British Canoe Union Level 2 Coach (trained to Level 3) and is the most experienced paddler in all of Southern Thailand.
Dave is an Emergency First Response Instructor and a certified rescue technician through the Rescue 3 International organization. Dave is also a certified Life Guard through the British Canoe Union. View certifications. Paddle Asia guides are EFR certified in CPR, First Aid, and basic life guard training.