Kayaking with Children at Khao Sok National Park
No experience is needed for any of our trips. Children are welcomed! The majority of our guests have never paddled before. No problem, we'll teach you proper paddling technique.
It is a bold gesture to claim that one trip to Khao Sok can somehow be more special than others. After all, we always get to hear and generally see gibbons making their morning calls. This is to me, the most perfect sound in the natural world, the sound that most completely defines a tropical jungle ecosystem. Listening to the bizarre cackling cry of the Helmeted hornbill is but a distant second to the haunting duets of the gibbons.
Seeing troops of langurs and macaques, watching the dazzling array of birds native to this area (and the many species of migratory birds), listening to wild pigs rooting up the jungle floor or watching them break banana trees to eat the pulp inside; these things we take for granted. Are we spoiled? Most certainly!
This particular trip stands out for two reasons, both having to do with one guest.
It was a small trip. Steve, an Englishman living in Phuket, brought along Tom, his eight year old son. Tom lives with his mother in England and came to Phuket for summer vacation with his dad. In a meeting several days before the trip, it was clear Tom liked having lots of attention. I wondered how much opportunity for nature appreciation we would have. So I suggested to our Thai Guide (who is also my wife) to bring Siwa, our six year-old son, hoping he and Tom could play together.
It was important to select the right kayaks for the trip. Steve suggested we bring our double kayak, thinking he could take the stern position and Tom would sit up front. I picked out the kayaks my wife and I like to paddle, and for good measure added the Piccolo to the stack. The Piccolo is an excellent boat for children. Siwa had paddled it through wind chop to an island a mile from Phuket. It was his first solo paddle. I figured a motivated eight year old could handle it.
As we approached the floating bungalows we saw a White-belly Sea Eagle, not a common site this far inland. We of course took it as a sign of good things to come.
The bungalows we normally use were full due to the Queen's Birthday holiday weekend and this was my first look at the other place. This 'resort' was quieter than the place we usually use.
Steve showed an interest in paddling my kayak. I put Tom and Siwa in the bow cockpit of the double and I took the stern. Siwa took his plastic kayak paddle apart so each of them could help out. They attacked the water while I eased us along the shoreline. Paddling the single kayak gave Steve some quiet time to enjoy the birds and wildlife around us. We were only a few minutes from the dock when we saw our first hornbill passing over us. The boys were thrilled by the sound of its wings moving against the air.
Soon, we caught sight of a troop of Dusky Langurs feeding in a tree next to the water. Langurs are lovely animals, a joy to watch. Even the boys enjoyed watching them. Then the boys became restless so we paddled on, leaving Steve to commune with the langurs.
We could hear gibbons, but they were some distance away. It would take a different route and longer paddle time to be in position to observe them. And that was assuming they traveled the same route each day. Gibbons can travel many kilometers a day in their search for food. They may return to an area for several days, or they may not show up at all the next day. Sometimes we hear them shortly after daybreak, sometimes not until mid-morning. So although gibbons are plentiful in the relative safety of the park, it is not easy to anticipate their route on a particular day. If we were lucky, we could spot a tree rich with fruit and hope they would include it in their travels.
There were few other guests so the boys had their own bungalow. They explored the few buildings built on solid ground, swam from the dock, and entertained the staff with their antics. Tom is a boisterous, handsome youth and was popular with the Thais. He entertained a little girl whose parents worked at the bungalow. She did not show interest in the rest of us, but Tom had her mimicking his funny facial gestures to the amusement of everyone.
After lunch we set out to find the waterfall. The directions from the staff were wonderfully simple; 'Over that way, you can't miss it'. It was an interesting paddle. We past a number of what appeared to be islands, just small mounds covered with jungle. They were all that remained of small hills flooded when the river was dammed less than twenty years ago. Then we approached the opposite shore, an unbroken wall of jungle. Where was the waterfall?
In the distance we heard the remarkable call of a Helmeted Hornbill. These birds are not often seen but their call is entirely unmistakable. It is yet another reminder that Khao Sok is a healthy tropical ecosystem. Closer to the shore we heard gibbons in the distance. It was already 1:30 p.m., beyond the usual time of day for the gibbon call. Then at last the sound of falling water prevailed and we looked expectantly to find its source.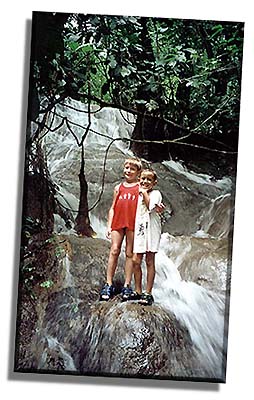 Through the foliage we could see water cascading down to the shoreline. We tied the boats, ate our lunch and clambered ashore.
It was a classic stair step waterfall with multitudes of drops and pools. It disappeared into the jungle some distance away, enticing all of us to climb and find its source. I looked for a trail beside the waterfall but the others started climbing straight up the falls. Steve and I made our way upward, climbing each little section of the falls. Where the water plunged downward, the rock was easy to climb, not slippery at all. The rock along the side of the falls was covered by a thin film of slick green growth and was very slippery. So we climbed straight up, into the falling water. I stayed right behind the boys, still rather apprehensive, but they went up without mishap.
Soon we reached the origin of the falls. It began as a small creek which meandered through thick jungle. I was willing to follow the stream into the unknown but the boys preferred the noise and excitement of the falls. Anya and I went down first, stopping every meter or two to assist the boys. I was relieved to reach the bottom and stand in the nice calm nonmoving water of the lake. The boys, lithe creatures with low centers of gravity, were naturals for this place. Us adults had to be more cautious, especially on the descent.
We returned to the bungalows. Anya played with the boys and that was good to a point. But the rather fragile bungalow environment was not made for active boys and their 'adult' playmate all running at full speed. So I introduced a new element of the program; Tom's first kayak lesson. Steve took the single kayak, I secured Tom in the Piccolo and joined them in Anya's boat.
Paddling a kayak for the first time is similar to being on skis for the first time in that the student appears pretty awkward for a while. Trying to paddle a kayak in a straight line is not nearly as easy as it may look. Tom's primary 'skill' was paddling around in a circle. This, however, was not his goal. I gave all the standard instructions ('No, paddle on your other left side') and after a while he looked more comfortable in the boat.
We headed out for our late afternoon paddle. Using our mobile wildlife viewing platforms (kayaks) in the early morning and late afternoon to see birds, monkeys and other inhabitants of the jungle is a standard aspect of Paddle Asia's Khao Sok trips. This afternoon was to be no different. The one unique feature was having our youngest guest paddling his own boat.
The outbound portion of the paddle (leaving the bungalows and going to a nearby cove) was slow going. Tom followed a classic zig zag course, a good naval tactic if enemy subs are about, but not exactly what he had intended.
The sun went down behind distant hills and the boys wanted to return for dinner. We paddled from the cove around a narrow spit of land. There were many dead trees in the water, making it a natural slalom course. Tom looked at me as if to say, 'how do I paddle through all this'. I said 'Tom, you know all you need to paddle past these trees, just paddle slowly so you stay in control.' He did well. Indeed, after negotiating the slalom course with only a few collisions, Tom was able to paddle up to our double kayak, slide up next to the bow and chat with Siwa.
As we approached the dock, the Thai staff came to cheer Tom, the newest kayaker. It was a nice ending to the day.
The next morning, we again saw langurs and again we heard the gibbons far away. I was disappointed not to have seen them, but even hearing gibbons is a fabulous memory to carry home from Thailand.
We returned to the bungalows, enjoyed a late breakfast and began preparations for our return to the dam. Then we heard gibbons very close to us.
They had approached from behind the bungalows and were in a tree within easy sight of us. We had not heard any gibbons for over an hour, and then they were upon us. Steve went for his camera, the boys and I looked through the binoculars and Anya began mimicking their call.
I have heard people mimic birdcalls and have 'conversations' with birds. I have not heard of it being done with gibbons. Anya mimicked them a couple times, then Tom became interested and gave a fair imitation of the gibbon call. Moments later the gibbon called again. Tom again gave his version of the sound. And again, the gibbon replied.
Everyone paid attention. The odd duet between our eight year old primate and the one in the nearby tree continued. The staff and the motorboat driver gathered around and observed. It appeared this sort of thing didn't happen every day.
I returned to my bungalow to finish packing. The conversation between Tom and the White-handed Gibbon continued. We were ready to leave and still it continued. The boat driver looked at me and I shook my head 'no'; it would have been most discourteous to the participants of this conversation to interrupt it.
Finally boy and gibbon became quiet. We boarded the motorboat and began the journey back to Phuket. I will remain the richer for the experiences of this trip.
Guest's comments: Steve Bragg (British)
"Khao Sok, absolutely amazing, I can't think of a nicer or more tranquil way to experience the jungle than by Kayak. It was good for my son [8 years old] as well, although he was a little freaked when he realized he was actually doing it, rather than seeing it on TV, but that soon passed. Kids are quick learners. What a bonus, before we left he was imitating the gibbon calls around the bungalows and it seemed very much that they was replying to him, who knows?"