About Paddle Asia guided tours in Thailand
See our Trip Advisor page. See some other guest comments
here
.
Paddle Asia's small group guided tours have a mission to provide discriminating travelers the opportunity to see the less-visited areas in Thailand's national parks and conservation areas with the most highly trained guides in southern Thailand. Our philosophy/goal is to show the world that we can have a very successful company with respectable salaries for the local staff without resorting to any mass tourism marketing.
We are the only major kayaking company in Southern Thailand that hasn't sold out to the lucrative day trip market and remains Southern Thailand's ONLY multi-day expedition tour operator. We offer a day trip on request, but that is not the focus of our company.
Paddle Asia is a Thai company. Paddle Asia is 100% Thai owned. Dave Williams is not an owner or shareholder. His role is marketing, destination development, and training. Dave Williams is the only foreigner in the company and Dave's role is training and marketing. Dave does not go on most trip. By Thai law all guiding is done by Thai nationals. Dave takes the minimum salary allowable by Thai law... yes, there is a minimum allowable salary for foreigners with work permits.
We are the only ones who do what we do!

---
Walaporn "Moo" Jitprathep, Director and owner
Moo was born and raised in Bangkok. She moved to Phuket over two decade ago. She has a love for life that is beyond words. For some strange reason, she's always happy...
Moo comes from a very poor family. She could only attend formal school for six years... yet she is now fluent in English and reads and writes it as well! She is a very special individual indeed.
Moo has been on hundreds of kayaking trips and has a very keen safety sense. Moo is certified in first aid and CPR through Emergency First Response.
Moo and Dave have been married since 1993. They live outside of Phuket Town with daughter Mook ('Pearl' in Thai), and their pack of very pampered rescued dogs and cats.
Moo is a trip logistics guru, planner, guide, tour leader, and sometimes a cook. If Moo is on your trip, you'll be taken very good care of.
---
Dave Williams - Training and all things computer
Dave Williams, a lifelong naturalist and animal lover, is an American expat who has lived in Thailand since 1993. Dave is semi-retired now and handles the marketing, training, and destination development for the company.
He started paddling in 1978. He has a great deal of experience in both very serious whitewater and sea kayaking. Dave has paddled all of the most treacherous rivers in the eastern half of the USA and most of the dangerous rivers of Colorado. He also paddled 229 miles of the Grand Canyon in a squirt boat in 1989. He has, of course, paddled extensively in Thailand and Laos.
Dave is a BCU (British Canoe Union) Level 2 Coach and is Level 3 trained (Level 3 Coach certificate to come shortly). As important as the certification is the fact that Dave has over 39 years of kayaking experience, including many hardcore expeditions.
He is also a BCU Lifeguard. Click here for proof of certification. Dave is an Emergency First Response instructor, a Rescue 3 International rescue technician and is also ITC (outdoor specific) First Aid and CPR certified.
He has a very broad knowledge of the wild edible plants of Thailand, as well as all of the flora and fauna of southern Thailand.
"Dave Williams is a sort of paddling encyclopaedia for Southern Thailand."
Action Asia magazine May/June 2009
Dave was the jungle survival expert (consultant) on two episodes of The Discovery Channel's "Dual Survival".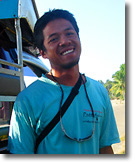 Note: by Thai law only Thai nationals can be guides.
Dave goes on some trips as a safety instructor, but most trips are conducted by the highly skilled Thai crew.
Thai guides: Jamrat "Run" Rengsamut and Teerayut "Sak" Mankun
Our two main Thai kayaking guides are Mr. Run and Mr. Sak. Both are licensed through the Tourism Authority of Thailand.
Mr. Run was both born and raised on Ko Yao Noi in Phang Nga Bay.
Mr. Sak is from a village called Laem Sak up in the far north of the bay. Mr. Sak speaks several languages.
Run runs a lot of our cycling day trips and he joins almost all of the bigger cycling group trips.
Sak runs our Khao Sok, survival trips, and Phang Nga Bay trips.
Besides having a very charming personalities, Run and Sak are completely fluent in English and are first aid certified through Emergency First Response.
---
Some of our Guest Comments
Just wanted to send a short note to say that Jane and I had a fabulous day of kayaking yesterday with our guide. He was friendly, professional, and knowledgeable about the area, flora and fauna. His English was good and he had a good attitude. Our vegetarian meal was delicious and abundant. I'll be sure to spread the word about the excellent service and extraordinary experience your company offers!
Thanks for all,
Penny Cousins and Jane Mennie (2 satisfied customers) Phang Nga Bay day trip.
---
Our guide was brilliant. He was very attentive but not pushy and just always seemed to say and do the right thing. Moo was also fantastic and lots of fun, but she also showed us by example how to be very still and quiet. The bungalows were just awesome and so was the time we spent on water and on land.
Jackie Spragg - Khao Sok National Park
---
Just a quick note to let you know how impressed I was with the recent trip..........I could not get over how well everything was organised and I felt very privileged to have one on one with our guide for the kayaking he was very knowledgeable and entertaining to say the least. The accommodation, food and friendly people all added up to a very memorable time & I'll be back.
Thanks Dave for such a great experience. John Hiscock - Phang Nga Bay
---
Daniel Loiterton - Khao Sok
Just wanted to drop you a quick email to tell how much we enjoyed our week in Khao Sok. Everything was really smooth, organised well, but flexible enough to tweak the schedule whenever we liked. The family at the floating bungalows were lovely, made us feel very welcome, and cooked us some great food.

Click on the links to view some of Daniel's wonderful gibbon photos and other impressive animal photos in a photo gallery.
---
Writen by Kelly Audette (Canadian)
"Let me tell you how amazing my kayak trip was this past week. It was absolutely the highlight of my month spent in this amazing country. The weather was not always in our favour, but truly that could not have taken away from my overall experience. I think I almost enjoyed the rain and the storms as much as I did the sunshine. It was a perfect combination of all the elements.
As you well know, it is such a beautiful area, and being so close to it all in a kayak... I do not have words in my vocabulary that would do it enough justice.
I need to mention, however, that honestly the trip was nothing short of the best experience of my life entirely because of my two wonderful guides.
I have fallen in love with the Thai people during my short time here. As a woman traveling alone, I have had the pleasure of relying on the locals to help me along the way. But these two have surpassed all the others. I have never felt safer, and more cared for than with their hospitality. I have made two friends for life, thanks to you. I was never alone, in fact on many occasions I was lucky enough to have my own personal guide. I was encouraged to try new things and with every question I asked, the reply was always "whatever you want to do, we will do" I over indulged in their kindness, and they took it to the next level.
I have spent the last two days enjoying their company, on their own time. I have met their friends, seen where they live, how they spend their pastimes. They welcomed me into their worlds with open arms, and when they could not look out for me they arranged for their friends to do so.
Being the first time I have traveled outside of Canada everyone back home warned me to be so careful as a woman traveling alone. Do not trust anyone, they told me. But I knew I could trust these two, and I have never felt so safe. I will remember them for the angels that they are. Not only did they make my kayak adventure more than I could have dreamed it would be, they made my entire trip into something I will always cherish.
I can not say enough to express my gratitude towards them. I only wish I could bring them home with me to return the favour and show them my country.
It would be such a pleasure to see their reaction to my world. When I win the lottery this will be at the top of my list.
Please extend my appreciation and gratitude to them. Without them I would never have experienced Thailand is such a way.
I cannot say enough good things about PaddleAsia. Thank you so much!"