About Paddle Asia guided tours in Thailand
See our Trip Advisor page. See some other guest comments
here
.
Paddle Asia's small group guided tours have a mission to provide discriminating travelers the opportunity to see the less-visited areas in Thailand's national parks and conservation areas with the most highly trained guides in southern Thailand.
Our philosophy/goal is to show the world that we can have a very successful company with respectable salaries for the local staff without resorting to any mass tourism marketing.
We are the only major kayaking company in Southern Thailand that hasn't sold out to the lucrative day trip mass tourism market.
Paddle Asia is a Thai company. Paddle Asia is 100% Thai owned. Dave Williams is not an owner or shareholder. His role is marketing, destination development, and training. Dave Williams is the only foreigner in the company. Dave does not go on most trip. By Thai law all guiding is done by Thai nationals. Dave takes the minimum salary allowable by Thai law... yes, there is a minimum allowable salary for foreigners with work permits.
We are the only ones who do what we do!

---
Walaporn "Moo" Jitprathep, Director and owner
Moo was born and raised in Bangkok. She moved to Phuket over two decade ago. She has a love for life that is beyond words. For some strange reason, she's always happy...
Moo comes from a very poor family. She could only attend formal school for six years... yet she is now fluent in English and reads and writes it as well! She is a very special individual indeed.
Moo has been on hundreds of kayaking trips and has a very keen safety sense.
Moo is certified in first aid and CPR through Emergency First Response.
Moo and Dave have been married since 1993. They live outside of Phuket Town with daughter Mook ('Pearl' in Thai), and their pack of very pampered rescued dogs and cats.
Moo is a trip logistics guru, planner, guide, tour leader, and sometimes a cook.
If Moo is on your trip, you'll be taken very good care of.
---
Dave Williams - Training and all things computer
Dave Williams, a lifelong naturalist and animal lover, is an American expat who has lived in Thailand since 1993. Dave is semi-retired now and handles the marketing, training, and destination development for the company.
He started paddling in 1978. He has a great deal of experience in both very serious whitewater and sea kayaking.
Dave is a BCU (British Canoe Union) Level 2 Coach and is Level 3 trained (Level 3 Coach certificate to come shortly). As important as the certification is the fact that Dave has over 39 years of kayaking experience, including many hardcore expeditions.
He is also a BCU Lifeguard.
Dave is an Emergency First Response instructor, a Rescue 3 International rescue technician and is also ITC (outdoor specific) First Aid and CPR certified.
He has a very broad knowledge of the wild edible plants of Thailand, as well as all of the flora and fauna of southern Thailand.
"Dave Williams is a sort of paddling encyclopaedia for Southern Thailand."
Action Asia magazine May/June 2009
Dave was the jungle survival expert (consultant) on two episodes of The Discovery Channel's "Dual Survival" and was featured on a the BBC episode of "The Travel Show" with Henry Golding.

Note: by Thai law only Thai nationals can be guides.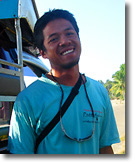 Dave goes on some trips as a safety instructor, but most trips are conducted by the highly skilled Thai crew.
Thai guides: Jamrat "Run" Rengsamut and Teerayut "Sak" Mankun
Our two main Thai kayaking guides are Mr. Run and Mr. Sak.
Both are licensed through the Tourism Authority of Thailand.
Mr. Run was both born and raised on Ko Yao Noi in Phang Nga Bay.
Mr. Sak is from a village called Laem Sak up in the far north of the bay. Mr. Sak speaks several languages.
Run runs most Phang Nga Bay trips and our cycling trips. Run also leads a lot of the school group trips.
Sak runs our Khao Sok, survival trips, and Phang Nga Bay trips.
Besides having a very charming personalities, Run and Sak are completely fluent in English and are first aid certified through Emergency First Response.