Mountain Biking on Koh Yao Yai
Exerpts from a story about a group of hardy South Africans we had join us in June of 2007.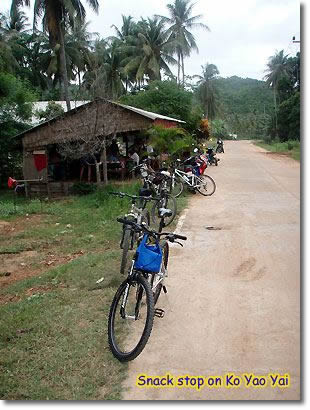 We departed from Pa Sai Bungalows after our wonderful breakfast. They make sure you start the day with good food in your gut.
Our biking guide for this leg of our journey is Mr. Tee. I know Tee from rock climbing. He's a very talented climber and he used to work for the birds' nest concession. Now he's trying to get a mountain biking company going. I'll help him of course.
The road from Pasai to the pier courses through traditional farmland, past grazing Water Buffaloes and past a multitude of waving locals. After loading all of our bikes on one longtail, we boarded a second longtail and headed from Koh Yao Noi to Koh Yao Yai. This is only a two kilometer crossing in calm seas.
Once on the other side, we mounted up and headed out. The weather was perfect, at least at this time. It was overcast and not too hot. The sky looked threatening behind us.
We stretched out a bit in a long line. There is very little traffic on Koh Yao Yai. In fact, the word "traffic" probably shouldn't be used at all. Cheerful children waved frantically at us as we rode. This would turn out to be the way the whole ride would go. There is almost no tourism on Koh Yao Yai. Koh Yao Noi is on the tourism map, but thankfully it's not over the top like so many other likable spots.
Tee stopped at a viewpoint and we waited for everyone to catch up. We could see a storm brewing over Koh Yao Noi, but for now, we were blissfully comfortable. After a few photos, we headed off again.
We traveled on was a well-built concrete road. One of the many things that the Thais do well is build roads, especially concrete ones. The terrain was mildly hilly and it varied from small villages to farmland to secondary growth. Virgin jungle could be spotted on the taller mountains, but the ever-popular rubber tree business is creeping up higher and higher. The price of rubber is at all all-time high and that's a death sentence for most of the remaining jungle. So, if you want to help save the jungle, reuse your condoms please.
A little further down the track, we came upon a sharp left turn onto dirt. Ah, dirt, wonderful dirt… and mud and sand and more friendly locals of course.
We visited a half-built pier and gazed at the islands we had visited on the previous day. Krabi, an over-developed tourist Mecca was off in the distance.
Back to the ride, we ventured onto a firmly packed, wide dirt road. This will eventually connect the north with the south and it'll likely be a race track for youngsters. There aren't many sharp turns to slow them down either, but for now, we enjoyed the calmness it offered.
We took a break at a small roadside snack stand. There were some Thai drinks that needed trying. We chose a pickled mango drink. I took the first one. Everyone wanted to give it a try. As soon a couple tried and gave it the 'thumbs up', everyone wanted one. Thais pickle a lot of things. Pickled mango makes a wonderfully thirst-quenching drink. It might not sound like it, but trust me on this one. We all ended up pouring the remnants of the drinks in our water bottles… along with the ice and a few choice chunks of pickled mango. We'll have to see if this means the end of these water bottles.
On we rode, past the hospital (you'd probably not guess it if you didn't see the sign), a school and a small police station. No cops were visible, probably not much to do on a small peaceful island like Yao Yai.
We started getting a bit peckish, so Tee and I started looking for a restaurant. There were plenty, but we had some vegetarians in our tribe (though they eat seafood) and they don't really like spicy food. So, not really a problem at all, but it does require a bit of searching for a place that has something for everyone. "Tee, this looks like the place," I said. The sign said pizza, pasta and Thai food. Now I like rice, but the thought of a pizza really sounded intriguing. Unfortunately, they had such a wonderful Thai menu that I opted for, yep, rice and things. We shredded papaya salad, one spicy plate and one not so spicy plate. Next, we had Chicken and Cashew and shrimp-stuffed omelets. We were stuffed, but managed to waddle over to our bikes and hop back on.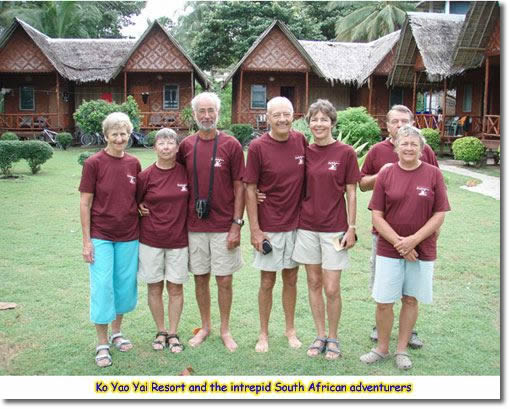 After about an hour or so of riding, a few big raindrops started landing on and around us. Within nanoseconds, the bottom fell out and it rained like crazy. We found shelter right away so most of us stayed fairly dry. We would soon realize the folly in trying to keep dry.
Down a sandy dirt road that's under construction, the rains did come… and in bounty. Accepting our fate, we cheerfully rode through it all. Personally, I hit every water puddle I could find and there were small river-ettes to keep my inner child entertained as well.
We took a right and headed down to the sea. The sandy path provided a bit of excitement for those unfamiliar with deep sand and what it does to a nice cruising speed. No one went over, luckily.
At the sea, the waves were abundant with very short wavelengths. The northern end of the beach is where some fishermen build big fish traps. They are large enough to hold a few people… or perhaps an unfortunate scuba diver.
Ah, now we got to ride back slightly up the sandy road. That's a whole new can of worms. We all muscled up without a whimper.
It was time to head back. The road back, the one we came down to get to this point, was running with water. There were some nice stretches where it was perhaps two inches deep. I plowed through it and so did some of the others. We're all kids given the right circumstances. This was it for me obviously… folly for life!
We took the turn to the Yao Yai Resort. Just four more kilometers, according to the sign, and we'd be there. That is, unless we do something silly like zoom by the small sign telling us where to make the final turn. Oh well, we ended up at a quaint little fishing village and a dozen or so children who seemed delighted to see us. Their smiles were ever so cute as they waved frantically and yelled "hello!" over and over again. It felt like we were the first Westerners to ever come to this village.
In total we covered just over 40 kilometers. A Singha Beer and a swim were in order for the gang, while the team washed the loose mud from the bikes and oiled up the chain for the next day's ride.