Reconnoitering the Verdant Jungle hiking in Phang Nga Province near Phuket
Mountain 45 - Day 1
May is the slowest month of the year for tourism. As much fun as we have running meaningful trips, I've been waiting for this month throughout our busy season. I've been itching to research some jungle trekking opportunities that my guide, Khun Big, has been raving about. He is from that area. Earlier, we ventured up to this area for a couple of days and had a delightful time. We hooked up with some of Big's childhood friends to guide us, we stayed in laid-back accommodations, and of course, we ate like pigs.
Joining us on this adventure was Mr. Peter Noble, a long-term resident of Phuket and a long-time friend.
Less than an hour from the Sarasin Bridge (the bridge to Phuket), we arrived in Phang Nga Town. As luck would have it, our scheduled guide couldn't get off from work at the ice factory. No problem. Big called another friend and we headed to a huge mountain that we visited on our previous research trip. I had already planned on visiting this mountain again, just not on the first day.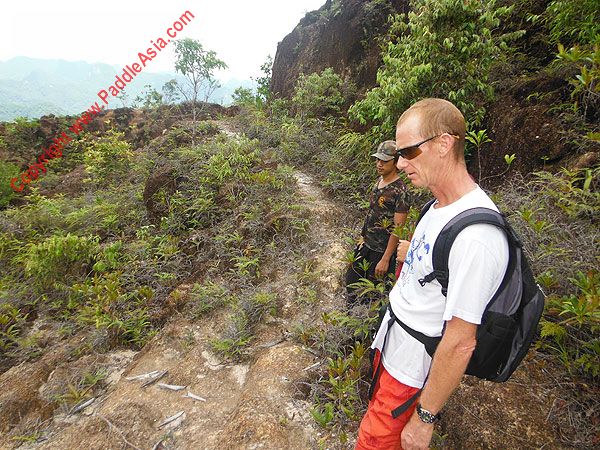 It had been raining. The ground was wet. As soon as we started walking, we started seeing leeches. No matter our speed, they got on our shoes. Stopping every few minutes, we'd all flick them off. It's not as bad as it might sound really. They carry no diseases and you don't even feel them. The higher we went, the fewer we encountered. Of course, by the time you've climbed for an hour + at about a 45 degree angle you kind of lose interest in the leeches.
I had put some waypoints in my GPS in the hope that we would be able to do an 'A' to 'B' walk this time. On our last visit we went up and back down the same way.
As we got a bit of a late start, it was lunchtime by the time we reached a camp area that the local government built. This was nice as it offered us many places to sit off of the ground. The temperature was really nice at elevation and the food was yummy.
Carrying on, we reached a Buddha statue at the summit. We looked east and saw a village past a gap between two mountains. That was our goal. It didn't look like it was going to be difficult to reach. We were wrong.
From the alkaline mountain top with certain alkaline-loving plants such as Straits Rhododendron, insect-eating Pitcher Plants, various ferns, one common orchid, and some scraggly trees, we searched for a way down. The 'rock' was kind of like petrified dirt. It wasn't overly secure. Making up switchbacks, we managed to get down into the fern jungle. Um, these were a lot taller than we hoped. The going was slow. Our guide, Deem, took the point and started hacking… and hacking.
It took quite a long time to reach some trees and open-ness. The downside was that the ground was exceedingly uneven. It was pretty flat in the fern area. This was various sized rocks covered in vegetation. The going was slow.
The jungle gradually opened up, but it got steep. Looking at my GPS, even though we thought we had maintained a fairly straight path, we were, in reality, heading in almost the opposite of our intended direction. We made the correction and carried on.
Not long after that, I happened to finally look at my watch. "Crickey! It's after 4:00 PM!" In essence, we had made very little progress. Our options were to head back in the direction from which we just came or take a right and try to intercept the trail up the mountain. We went for plan B.
We ended up going down for a ways, but that kept sending up away from the trail. Our only option was to climb a really steep mountain with no trail. We pushed on.
Through the thick jungle, we could tell that we were nearing a ridge. The trail was on a ridge. The GPS said we were in the vicinity.
We came upon an obvious past camping spot. There were trails going basically in three different directions. Again, we relied on technology to tell us which one.
At last, we arrive at the beaten path. It was late, but not so late that we wouldn't make it by dark. We decided to jog/run whenever the opportunity presented itself. The downhill was understandably at 45 degrees going down as that's what it was going up. It was tricky going.
All-in-all, this isn't a trail for the moderately fit, nor for those who are not familiar with walking on truly challenging terrain. Big recently found a guide who supposedly knows a way to our target village. I want to do it, but again, this is not something we will offer to just anyone. If you want a challenge however, this is it.
Day 2 – The Flatlands near the Jungle Temple
The guide we were supposed to have on the first day was available on this day. Bawn works at an ice factory, but he's also a frog hunter. The large area of fairly flat land has several small creeks. This is where he hunts frogs.
One our previous reccy, he took us to a particular area that was almost entirely flat and really scenic. We ended up at a lovely quaint jungle temple. This was exactly what I was after as a big part of why I was doing this was for school group trips. This temple would be perfect for camping. Besides having plenty of completely flat ground, there were many covered areas to cook in case it rained. There was also a spotlessly clean Western-style toilet. On this day, we parked at the temple and started walking. I told Bawn that I wanted at least a five hour walk.
The first section took us up next to an attractive cliff. Bawn said there are some caves we could walk in, but I opted not to check them out in this particular trip. One apparently goes for quite a ways and exits on the same cliff face further down. That sounded interesting.
We soon ended up walking in a shallow creek. The water was cool and refreshing. We splashed some on our faces to cool down.
This area has a lot of palm fruits, but it also has Burmese grapes (Baccaurea ramiflora). These fruits are sweet with a hint of tanginess. We found quite a few. Between this fruit and others, we certainly enough to satisfy our energy needs if we were indeed in a survival situation.
There were a couple of slightly tricky spots, mostly when we either entered or exited a creek, but for the most part the trails were flat and easy. This day would be perfect for families and for school groups. There is plenty of shade, plenty of very interesting plants, splendid rocks and cliffs, and a good mixture of creeks vs. dirt trails.
Day 3 - Easy-going Creek Hike
Big contacted some old school mates to take us up a creek. When we arrived, we luckily happened to meet another old friend of his who wanted to join us. He ended up being the leader of this group as this was his stomping ground. He also spoke quite a bit of English.
At the very beginning part of this creek the locals offer ATV rides. However, within a few minutes, the terrain is not compatible for that… only for walking. Walking up a creek is one of the easiest and most pleasant ways to access otherwise thick jungle. The only downside is that some of the rocks are slippery. We quickly got used to figuring out the appearance of the more slippery rocks and simply avoided them.
During this time of the year, there are a lot of trees in fruit and mushrooms are also plentiful. We found mushrooms that I had never seen before. Some of them were edible while others were used in medicine.
At one point we headed up a well-marked trail. This trail is used to avoid a particularly risky area of the creek that has some drops on slippery rocks. The trail also allowed us to find some different types of flora as we were not in the riparian area, but into the jungle. There were different trees, flowers and fruit from what we commonly saw near the water.
Khun Wat, the guide who joined us, really knew his plants. He also informed us at one point that we were further up the creek than he had been before. Evidently, according to him, no one has gone all the way to the source of this creek. He claimed it's a long way off. Once I got back home and plugged my GPS into Google Earth I verified that this is indeed a large area and the source of the creek would be quite far away. I estimate that it would take a solid three to four days to get to the summit of where the source is likely located, across the ridge and down the other side to a village. This is a future project.
Day 4 – Ridgetop Misty Mountain Ramble
The weather looked a bit threatening. The sky to the east was dark and looking up divulged that it was heading towards us. There was no thunder or lightning, so we weren't concerned.
Today's guide was a young chap named Palm. Wat also joined us on this day.
We parked near a small lake and headed up cultivated land. The angle of our climb up the mountain slope was steep, but nowhere near what we had done on the first day. We could see that we would soon enter some old-growth jungle and shortly thereafter, a ridge.
When we arrived, the mountaintop was shrouded in mist. The rain was light. It was like being in a mystical air conditioned jungle. It looked like an area where one would expect to see the knights who say 'ni'.
A smooth trail coursed through the stunning jungle. The area was open and the walking was really easy. It went like this for quite a way. There were huge trees on either side of us for the entire day. Wind plays havoc with big trees. There was a downed one and it was full of orchids and epiphytes. According to my guys, many of the orchids were quite rare. None were in flower, but the plants were interesting nonetheless.
At one point we went down to walk in a high-country creek. It was unique and very pleasant, but there were a couple of awkward bits where we had to ascend slick rock. This stretch is avoidable, but I'm glad we did it.
We found plenty of fruit and plants to eat on the mountaintop. We saw evidence of Pangolin, bear, wild pigs, monkeys, and deer. Lunch was at a massive tree with far-reaching buttress roots that made good seats.
The ridge trail continued for a couple more hours and, according to Palm, it goes for a few more hours like this. I could definitely stand more of what we were on, but we kept it at a five hour walk.
All-in-all, I'm extremely pleased with Big's guide friends and exceedingly pleased with the hikes they provided us. The first day was a bit too hardcore for most folks, but the next three days were perfectly suited to the moderately fit adventurer.
Besides offering this area to school groups, our goal is to offer multi-day combo hiking/survival trips in this area. It's also possible to offer a day trip from Phuket as it's so close.
We're off there again the day after tomorrow… and probably a few more times this summer. Ah, the joys of the slow season.
Here is an image gallery from this trip.
Check out our other hiking trip routes.