Thailand packing list
Personal medication - If you are allergic to bee stings, you are likely allergic to jellyfish stings also. Bring your medicine.
Personal hygiene items such as soap, shampoo, insect repellent, etc. Note: Soap and shampoo are provided at the resort on Koh Yao Noi in Phang Nga Bay
Sunscreen or sunblock (SPF15 or greater). Zinc sunblock is recommended for sensitive skin.
Lip balm (protector/moisturizer/sunblock).
Rainwear and/or 'warm-when-wet' types of clothing such as some of the new synthetic cloths. December through March is usually very dry. Highly recommended hats and clothing. The longtail (boat) ride in Khao Sok is often quite wet too.
Hat that is light weight, light colored, and throw an extra hat in too.
Sunglasses and safety strap. An extra pair of sunglasses is a good idea.
A small waterproof flashlight.
Water shoes - Wetsuit booties are a bit too hot. Crocs don't stay on feet properly in water. Strap sandals are ok, though velcro and sand don't work together well.
An extra pair of sandals (Dave learned this the hard way when he had to wear a pair of undersized light purple flowery shoes for a whole week in Laos on one trip... they were the only pair in Vientiane close to his required size 13).
If you're coming on one of our hiking or mountain climbing trips, you'll need a pair of sturdy hiking boots with lugged soles. Sturdy sports shoes will suffice.
Lightweight gloves with non-slip gripping surface if you have tender hands. This is also a good idea of you have sun-sensitive skin. A sunburn on the back of your hands is not pleasant.
Lightweight, light-colored, long-sleeve shirt if you are sensitive to the sun. Wearing protection against the sun during the midday hours is a good idea for anyone coming to an Asian country.
If you bring a non-waterproof camera, you may wish to bring your own pre-tested watertight container. We provide a quality dry bag for each person, but in a humid climate, moisture can sometimes be sealed in along with the camera. Bring a hand towel or small towel to wrap your camera while in the dry bag. It's good padding and it's helpful in case you've got sweaty or wet hands.
Extra memory cards and batteries.
Binoculars (a nice addition for a Khao Sok trip). We do not supply binoculars however we have dry bags for your camera and binoculars.
You only need a small amount of money for incidentals, personal items, tips, etc.
If you are a light sleeper, you might want to bring some EAR PLUGS. Frogs and other night sounds can get pretty loud. At times the other guests in Khao Sok can be noisy too. We have no control over the national park bungalows.
Your personal paddle if you wish.
Phang Nga Bay and Khao Sok - bring about 10 feet of light string to make a clothes line. Bring a few clothes pins too.
Jewelry and make-up are not necessary. If you don't bring it, you can't loose it.
Naturally we respect Thai cultural values. This means the local people can be easily offended by scantily dressed Westerners. It is particularly important that women realize in Muslim areas, it is very important not to appear in bikinis or other clothing that people of more traditional cultures would consider provocative or offensive. In other words, you won't be able to wear your bikini around the fishing villages. A pair of shorts and a shirt will do. Once on the water, you can do as you please.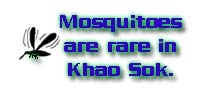 Health Matters
In our experience, Thailand is a safe, healthy country for normal activities.
Thailand does not necessarily require any particular immunization for your visit. Cholera, Yellow Fever, Tetanus & Diphtheria, Typhoid, and Gamma Globulin are some of the vaccinations that you should consider. We still recommend that you consult your physician for recommended inoculations before departure to Asian destinations.
For medical advice, check out the following sites:

Note: Malaria and Dengue Fever are present in Thailand in areas where it used to be uncommon. During the rainy season, April through November, it is advised that you take all precautions to avoid contact with the mosquitoes.
Additional Insurance
Acquiring travel insurance policy that covers theft, loss and medical treatment is recommended. Make sure the insurance also covers the activities that you will be undertaking during your stay... such as kayaking. If you are participating is a strenuous/extreme activity, it makes sense to buy evacuation insurance too. Cancellation insurance is a nice option too.
Personal Medical Kit List
Note: We have a first aid kit on all of our trips. For legal reasons however, tour operator first aid kits do not normally contain lotions and potions. A First Aid is just that, the first medical care you receive for accidents and injuries. This is initial wound management only.
If you would like to bring your own or if you will be traveling to other destinations before or after your Paddle Asia adventure, here is our suggested list of contents:
One very useful addition to any first aid kit is New Skin. This is a liquid bandage, which is both an antiseptic and waterproof. It creates a plastic shield over the wound. This is very appropriate for the tropics.
Aspirin or Panadol - for pain or fever.
Antihistamine - useful as a decongestant for colds, allergies, to ease the itch from insect bites and stings or to help prevent motion sickness.
Antibiotics - useful if you are traveling well off the beaten track but they must be prescribed. You can however, get antibiotics over the counter in Thailand.
Kaolin preparation (Pepto-Bismol), Imodium or Lomotil - for upset stomach or diarrhea.
Rehydration mixture - for rehydration as well as treatment of severe diarrhea.
Topical antiseptic - mercurochrome, antibiotic powder, or similar 'dry' spray - for cuts and abrasions.
Calamine lotion - to ease irritation from bites or stings.
Bandages and Band-Aids (plasters) - for minor injuries.
Scissors.
Tweezers.
Thermometer.
Insect repellent.
Sun block and/or suntan lotion.
Chapstick lip protection.
Water-purification tablets if you plan on camping... not needed on our guided tours.
Throat lozenges.
Moleskin - for blisters.
Sulamyd 10% eye drops.
Acetaminophen (Paracetamol).
Antacid tablets.
A simple medical kit can be very useful and won't take too much space in your baggage. Prevention, of course, is the best form of medicine.
Travel Tips
Use caution in what you eat and drink. Stomach upsets are the most likely travel health problem but the majority of these upsets will be relatively minor.
Drink bottled water only. Don't drink water with ice unless the ice has a "hole" in it, although sometimes they crush this type of ice too. In Thailand, the ice with a hole is from proper drinking water. Basically, no one in Thailand drinks tap water nor uses tap water for ice.
To play it extra safe, tea or coffee is recommend since the water would have been boiled.
Be cautious when drinking fruit juice, particularly if water was added. Canned fruit juices are OK.
Salads and fruit should be washed with purified water or peeled whenever possible.
Thoroughly cooked food is the safest but not if it has been left to cool. Many restaurants cook their food in the morning and leave it out all day. It's usually OK, but if you are very sensitive, you might get a bit of an upset stomach.
Wash your hands regularly. It's quite easy to contaminate your own food.
You should brush your teeth with purified water rather than tap water.
Wear shoes. You can get worm infections through bare feet. It is important to wear shoes at all time in Khao Sok as the bungalow walkways and all flooring is made up of rough-cut wood or bamboo. Splinters are never fun.
Try to avoid insect bites by using insect repellents or by covering bare skin.
Passport Protection
Losing your passport is a big deal. You can get a new one at your country's embassy in Bangkok. To make this nightmare easier to handle, carry a copy of your passport and birth certificate in a different place from where you carry your passport.