Choosing the right type of kayak for your Phuket paddling holiday
Tropical Kayaking adds a new dimension to your traveling experience. Have you ever considered trying kayaking? It's a very relaxing way to enjoy tropical islands and beaches.
Traditional sit-inside kayaks are:
More comfortable
More efficient
More stable as you're sitting lower in the water
Perfectly suitable for first-time paddlers
Modern traditional kayaks in the tropics... efficient & comfortable
If you appreciate quality and inherent value, a modern sit-inside traditional kayak adds a new style to an old form of travel. Sit-inside kayaks are considered the standard worldwide. We have a huge selection to suit all body sizes. Your comfort is very important to us.
The standard boat for all other paddling tour companies in southern Thailand is a sluggish sit-on-top. They are cheap in price and design. Suitable for resort use and piddling about in a small pond, they are disappointingly slothful when coastal and open ocean paddling.
Oh my gosh, what if I capsize in my real kayak?
Decked kayak rescues are no big deal. You won't be stuck in the kayak if you happen to tip over. In fact, you must brace your thighs under the deck in order to remain in a capsized boat. Emptying the kayak and getting you back in the boat is very quick and easy. All of our guides and tour leaders are experts at assisted rescues.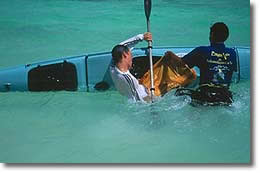 In the photo to the right, our lead guide is working with a student who wanted to learn the Eskimo roll. As you can plainly see, staying in the boat isn't easy. You must brace your knees and thighs tightly against the boat to stay in if you capsize. in other words, if you happen to fall over, you will fall out. It's that simple.
All of our tour leaders and guides can readily perform assisted rescues in the event that someone capsizes. You'll be back in your boat and laughing in a matter of a couple minutes... it's no big deal.
You're never too old or too young to start kayaking.
It's a gentle sport that's suitable for all who have a sense of adventure and who wish to explore the natural wonders of the world in comfort. If you can trek, you can paddle! It's that easy.
Certification in Paddlesports and First Aid
Dave is a British Canoe Union Level 2 Coach (trained to Level 3) and is the most experienced paddler in all of Southern Thailand.
Dave is an Emergency First Response Instructor and a certified rescue technician through the Rescue 3 International organization. Dave is also a certified Life Guard through the British Canoe Union. View certifications. Paddle Asia guides are EFR certified in CPR, First Aid, and basic life guard training.