Phang Nga Bay Sea Kayaking Itinerary
Day 1
As you enter the bay, you get your first look at the remarkable limestone karst formations.
Your first stop is an island with a large 'hong' (hidden lagoon), an interior room formed by the collapse of a huge cave system in the middle of the island. If the water is high, you can paddle through the cave and into the hong. If the tide is lower, you will land at a beach and walk into the 'hong' (inner island lagoon). This is a very impressive introduction to the unique geology of Phang Nga Bay.
Click here to see some wonderful images of Phang Nga Bay.
After visting the hong, you'll go for a nice paddle. Circumnavigating the island, you'll observe the variety of birds, monitor lizards, fish, crabs, orchids, fruit bats and monkeys that live on and around the island. There are certain areas where we generally see Brown-winged kingfishers. Brahminy kites and White-bellied sea eagles are a common sight on the back side of the island.
Returning to the escort boat you'll have refreshments, lunch, and have time for a swim in the lagoon.
After lunch we'll paddle across a channel to a lovely bay on a larger island and paddle around it. You decide the pace.
After visiting two islands, you will return along the east coast of Koh Yao Noi and head to the bungalows.
The bungalows are locally owned. They overlook several small islands. Krabi lies in the distance.
Breakfast is at the bungalows or if you'd like to try a more traditional Thai breakfast, you can visit downtown Ko Yao Noi and go to a very local restaurant.
Day 2
After enjoying a Western or Thai-style breakfast, you board the escort boat for a full day of exploration. You will go to a group of small islands, transfer to a beach, then get ready to paddle.
Each island in this group is within a ten minute paddle of the next one. You paddle around various islands. There are a number of beaches where you can rest as desired.
Return to the escort boat for lunch and a swim. Your afternoon paddle will be to a very special island with towering cliffs. We generally see Collared and Black-capped kingfishers, and sometimes White-bellied sea eagles here.
Return to the escort boat and head for the bungalows. As with the previous day, there is time for a rest or a walk along the beach before dinner. The beach is perfect for late afternoon strolls. The islands in view offer great photo opts in the late afternoon lighting.
Day 3
Today is a special treat. You will head out to explore an extensive area of mangroves that includes a huge hidden lagoon. This is one of the most beautiful spots in the entire bay!
Explore different channels through this unique ecosystem. This is a remarkable area, a real highlight of the trip.
Thailand's remaining mangrove forests are the breeding ground and nursery for much of the marine life in the ocean. And many creatures come to the mangroves to feed on the young fish, shrimp and crabs hiding among the root systems. At lower tide levels, you can see mud skippers, a fish whose lungs can extract oxygen from the air as well as from the water. They love to crawl around on the mud flats, and even climb the exposed roots of the mangrove trees.
Your trip leader will give more knowledge of the adaptive mechanisms that allow the mangroves to thrive in low-oxygen mud, flooded daily by saltwater. You can paddle slowly through an area where we have seen Buffy fish owls and Dusky langurs, and have heard the unforgettable sound of gibbons making their morning calls.
Day 4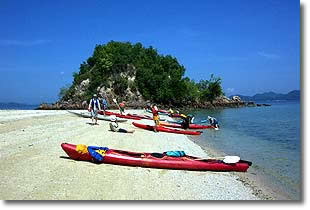 On a four-day itinerary, we can add in a day of snorkeling, though the above-water scenery is definitely better than the below-water scenery in Phang Nga Bay.
If you prefer to paddle instead of going snorkeling, the west side of Ko Yao Yai offers very nice paddling and there are a dozen or more secluded beaches.
During the summer months if the seas are a bit bumpy, there are other islands that you can visit. Safety is always priority number one and the bay offers sheltered paddling water no matter the weather.
Then it is time to head back to Ko Yao Noi and then head for Phuket.
You will be back on Phuket by approximately 5:00 pm. You will then be transferred to your hotel or anywhere on Phuket.
For longer trips, you can add a trip to a canyon area in Krabi Province. This is a popular day trip destination for tourists in Krabi, however if timed correctly it is possible to see this very pretty area without running into mass tourism groups. This area also features a massive expanse of mangrove forest with plenty of channels to explore.
Just west lies a group of islands worth exploring. There are several islands, but only a couple of beaches that are popular with tour groups. This leaves a lot for you to explore.
Another day could be spent on the other side of Koh Yao Yai (opposite side from day 4) as both long coastlines of Koh Yao Noi are very worth exploring.
Still another option would be to circumnavigate Koh Boi Yai and Koh Boi Noi. No tourists go to these islands. They feature lots of small secluded beaches and a very healthy amount of old-growth jungle.
Notes: Exact itinerary will vary with tide levels and times of year. In the event of strong winds that sometimes occur in low season, we can stay on the lee (protected side) of islands, depending on the needs of each group. This flexibility allows our Phang Nga Bay tour to be offered year 'round. This is the advantage of having skilled trip leaders for whom safety is always the primary consideration.
Longer trips are available too. There is enough to see and do to warrant even more time.
Plus, if you like mountain biking, that can be added to your Phang Nga Bay Adventure.
No experience is needed for any of our trips. The majority of our guests have never paddled before. No problem, you'll learn proper paddling technique as we go.
All-inclusive: all transfers (airfare not included), all equipment, accommodations once on the trip, all meals, snacks, water, coffee, tea, and insurance. Alcohol, soft drinks, and fruit juices are not included. Group and family discounts are available.
Paddle Asia also offer a unique Phang Nga Bay day trip that is away from the crowds.
Go back to Phang Nga Bay kayaking description page.