Phang Nga Bay Self Paddle Kayaking Day Trip from Phuket
Explore Phang Nga Bay's world-famous islands, caves, and mangrove forests in a way that is completely different from other tour operators.
Our goal is for you to see the bay without seeing other visitors and to do it in proper sit-inside touring kayaks instead of on a sluggish sit-on-top or inflatable canoe. See some images of our kayaks.
Read the many wonderful comments about our self paddle kayaking trip on our Trip Advisor page.
Luckily, everyone else goes to the northwest corner of the bay or the southern regions, we go to the northeast corner.
It is just as beautiful and has just as much to offer.
There are rock spires that look just like the famous rock at James Bond Island. You can see them without being surrounded by other visitors.
Please note that we DO NOT:
- visit James Bond Island or Koh Panyee (floating fishing village)
- offer half-day or sunset trips.
- offer snorkeling on our day trip. The bay is a world-class kayaking destination. It's a mediocre snorkeling destination at best.
- offer day trips from Phang Nga Province or Khao Lak

Our day trip is designed for first-timers and beginners.
If you're an active person, you can do this. Experienced paddlers are welcomed too. We also offer a kayaking and camping option during the winter months (December - March).
Phang Nga Bay Itinerary
We usually go to visit the hong in Koh Roi (a hong is a hidden inner island lagoon), Koh Kudu Noi and Koh Kudu Yai when we do day trips. Sometimes we also visit Koh Batang. See a map of Phang Nga Bay at the bottom of this page.
There are nice cliffs on the Kudu islands as well as some small secluded beaches. Potential wildlife sightings include Brahminy Kites (raptors), White-bellied Sea Eagles, Long-tail Macaques (monkeys), Brown-winged Kingfishers, Collared Kingfishers and Water Monitor Lizards.
Time-permitting, we will visit Ko Batang. This island offers exciting cliffs and there is one lovely beach on the west side of the island.
Note: The amount of paddling varies with the group. We often do a short open-water crossing between islands. However, if they guest don't want this experience, we can change it. The guides have the freedom to modify the itinerary as needed.
In the interest of being more environmentally friendly, we utilize the public ferry from Phuket to get to Koh Yao Noi. Once on the island, our private longtail support boat escorts you to the various islands.

Itinerary Timing
- depending on where you're staying in Phuket, the pickup time is between 7:15 - 7:30 am
- the van will transfer you to the Bangrong Pier where your guide will be waiting
- the speedboat ferry will take you to Koh Yao Noi. This takes 30 minutes
- it's about 30 to 40 minute by private longtail to the first paddling destination
- you'll catch the 4:00 pm speedboat ferry back to the Bangrong Pier on Phuket
Phang Nga Bay Image Gallery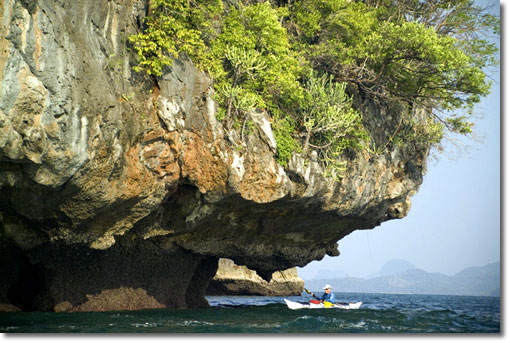 View our Image Gallery of photos taken on some of our Phang Nga Bay day tours.
Tour Price
Our unique (non-mass tourism) one-day trip costs 4,450 Baht per person and includes transfers (on both ends of the adventure) from anywhere in Phuket only, all equipment (including life jackets and dry bags), lunch, and insurance.
Family discounts and group discounts are available.
Breakfast is not included.
Alcohol, soft drinks, and fruit juices are not included.
What to Bring
Swim wear

Shoes that can get wet (flip flops, sandals, Crocs, sports shoes, or water shoes)

Hat and sunglasses

Sun lotion

A towel

A dry change of clothes (optional)
If you have more time, you can participate in our multi-day Phang Nga Bay tours.
We also offer mountain biking trips on Koh Yao Noi in the bay.
Lunch is always a treat
We serve a variety of Thai dishes. The degree of spice is up to you.
If you want to try the 'real deal', then that's what you'll get. Vegetarian and pure vegan food is also available.
If you are a vegetarian, please let us know which type. In other words, do you eat eggs, fish sauce, oyster sauce, etc?
We use reusable plastic boxes so as to not generate trash. A locally-owned family restaurant on Koh Yao Noi prepares our lunches.
Everything that they make is delicious, especially when served on a secluded beach in Phang Nga Bay.
The chicken we serve is free-range and the seafood comes from the local island fishermen, not from big commercial operators.
Certification in Paddle sports and First Aid
Paddle Asia guides are EFR certified in CPR, First Aid, and basic life guard training.
Dave is a British Canoe Union Level 2 Coach (trained to Level 3) and is the most experienced paddler in all of Southern Thailand.
Dave is an Emergency First Response Instructor and a certified rescue technician through the Rescue 3 International organization. Dave is also a certified Life Guard through the British Canoe Union. View certifications.
---
Here is a map of Phang Nga Bay showing you the relationship between where we start, where we go and the surrounding area. We use a speedboat ferry to get to Koh Yao Noi, then we switch to a private longtail to start the sea kayaking adventure.