Phang Nga Bay - Koh Yao Noi Mountain Biking Day Trip

Our mountain biking guide on Ko Yao Noi, Khun Run, was born and raised on the island. His knowledge of the trails and island culture is unmatched.
If you desire a tough day of single track trails, that is what you'll get. If you'd like an easy day on secondary and back roads, that's fine. If you'd like a mixture of hard and easy, that is what you'll get.
You'll head out to the middle of Phang Nga Bay to Koh Yao Noi via the public ferry. This is the most responsible way to get there. Once at the main pier on Koh Yao Noi, you're guide will meet you to start your cycling adventure. Lunch and snacks are, of course, provided. Here is more information on our Koh Yao Noi cycling day trip.
All in all, this is a wonderful way to see one of the few places in the region that hasn't been gobbled up by mass tourism. Ko Yao Noi has retained its charm and natural beauty. If you'd like to spend more than one day on the island, that's possible too.
Thailand Mountain Biking Tours in Phang Nga Province
Tucked between two tourist Meccas – Phuket and Krabi – Phang Nga Province offers mountain biking opportunities for adventurous travelers as well as experienced cyclists.
No real mountain biking experience is required, though you will likely enjoy yourself more if you have a bit of familiarity. You can choose from a variety of itineraries that range from very mild to rather wild.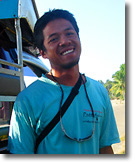 Our philosophy is that mountain bikes are meant to be ridden mostly offroad! Therefore, we spend an incredible amount of time finding trails instead of following roads. We do go on roads too as there are a lot of wonderful rural roads here. The single track trails are not challenging. This is not meant to be scary.
We have a coast to coast mountain biking route from Surat Thani to Phuket that is mostly off-road and fairly challenging.
We have a much easier cross country cycling route from Nakhon Si Thamarat to Krabi that is suitable for beginners and up. Both routes are very scenic. Here is a short video on the cross country cycling route.


Guest Comments: Coast to Coast Mountain Bike Tour from Surat Thani to Phuket
"Just an email to say thank you and let you know how much both Lynette & I enjoyed the recent MTB ride. The whole trip, scenery, food and people were amazing. Mr Run and Ka looked after us extremely well. You have done a great job putting the challenging route together. We enjoyed all the food but especially enjoyed having breakfast & dinner in the local Thai home which was very special. We definitely experienced something that very few western tourists experience. Look forward to doing another trip with you in the future."
Kind Regards,
Garry & Lynette Mison
General Cycling Tour Information

Who can join: Anyone in average physical condition can join this mountain biking tour. Experienced mountain bikers are welcomed too. We get a lot of experienced riders who want to push the pace. That's fine with us.
If you're not into speed, we can cater to your desires. Don't worry about getting tired. This is not meant to be a physical challenge. Mountain biking allows you to get closer to nature and to travel in relative silence.
Accommodations: Small hotels, bungalows, and guesthouses.
Group size: Minimum of two guests and a maximum of eight guests. Larger group trips are available on request.
Season: All year. Temperature-wise, the most comfortable time of year is from November through March. April and May are the hottest months. June through October is the rainy season. September is the wettest month.
Biking in the rain is very comfortable. You'll get muddy, but that's part of the fun! For monthly weather information, check out our weather calendar.
What to bring:
Cycling shorts

Cycling gloves

Hat (for the short hikes)

Sun protection / sun lotion

Personal saddle if you wish

Shoes for cycling or general sports

Sunglasses

Personal Medicines
Click here for additional information on what to bring.
Mountain bikes, gear, and other stuff:
We a large fleet of mountain bikes with aluminum frames and front suspension

Helmets included (sizes medium and large)

All bikes have water bottles.

A support bus or air-conditioned truck, depending on group size. There is no support vehicle on the day trip.

We reserve the right to change the itinerary as necessary, depending on weather and road conditions.
Note: Participants understand this type of adventure tour incurs some inherent risks. We do provide limited personal insurance. We recommend that participants get such insurance beforehand. See our safety certification.